LIMITLESS CAMPS

Limitless Camps are world class personal development and leadership camps for teenagers and are held at one of Australia's best Adventure Campsites 'The Summit' in Trafalgar, Victoria.
I believe all children have greatness within them and strengths which are enhanced through nurturing environments and positive experiences.
The focus at Limitless Camp is to immerse young people in an experiential learning environment over an action packed 4 day camp program, allowing your child to be stretched, challenged, engaged, inspired and empowered to know themselves better, be their best and make a positive difference in the world around them.
Developed on the latest research in personal development, positive psychology, social + emotional intelligence, experiential learning your young person will go away from their camp experience having grown and developed their:
Self belief and confidence
Personal leadership capacity
Resilience and grit
Personal power and self leadership
Ability to connect with others
Gratitude and appreciation
Motivation and drive
Identity and self awareness
Ability to respond and take ownership of the direction of their lives and future
Understanding of the power of forgiveness and letting go
And so much more!
Not only is the impact and transformation anecdotal (from the feedback of the campers), but we have also employed psychologists to design a pre and post camp survey to track the level and the longevity of the impact we are making in the lives of the teens who attend camp.
Click here to nominate a student
The campers become a part of their own tribe which has up to 10 campers per tribe and an adult coach who stays with the tribe throughout the whole camp.
Full Sponsorship Selection Criteria (valued at over $900):
Aged 14 – 17 years (Year 9 – 12)Middle of the road, everyday, good kids
Young people who have a spark (however small) that if nurtured could ignite into a whole new empowering vision for their life.
MOST importantly, the young person needs to be excited about this opportunity
Here's what the students who attended the Limitless Camps in June/July 2016 had to say about their Limitless Camp experience.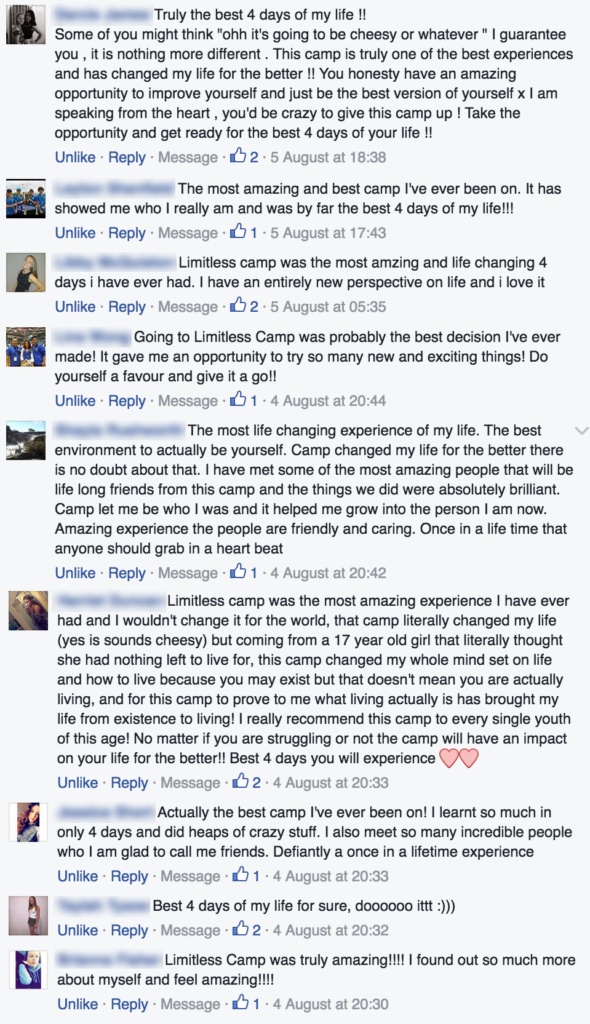 Click here to nominate a student
Limitless Online Personal Development Program
Students who attend a Limitless Camp also get access to a world class online personal development program which continues their journey of growth and development when they get home.  This online video based program covers 10 modules, each with their own worksheet and activities:
Re-Living Camp (How to take replicate the camp experience back home)
The 5 Success Principles (How to achieve your goals)
Wake Up and Dream (Creating a vision for your future)
Back to Reality (How to get from where you are now, to where you want to be)
1 Day To Destiny (How to achieve big things, with small daily actions and habits)
Measuring Your Success (Tracking and measuring your progress)
What's Your Why (Living a purposeful and meaningful life)
Motivation + Momentum (How to stay motivated and moving forward)
Limitless You (Discovering your strengths and your unique super powers)
It's your time to Shine (What is real success and how to make a difference in your world)
As well as the online program all campers are encouraged to maintain contact with the new 'Limitless Family' of coaches and fellow campers through the private facebook group, regular online webinars and the opportunities to come back to camp as a graduate or a volunteer.